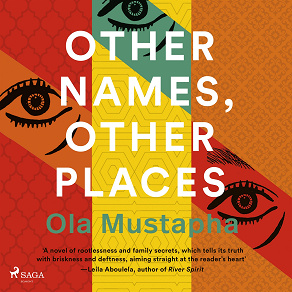 Isbn:
978-87-2857-264-1
Publisher:
Saga Egmont
Category:
Novels
Accessible since:
September 2023
Narrator:
Nadia Nadiff
Length: 8 hours 18 minutes
---
Other Names, Other Places
'What were we, then, if 'English' was a prize out of our reach and 'Tunisian' was the mask we wore at home?'

Caught between cultures and struggling to find her identity, Nessie, a Londoner with Tunisian roots, navigates the complexities of belonging. With her multiple name - Nesrine, Susu, Nessie - and a yearning for acceptance, she grapples with not being 'enough' for anyone.

But when Mrs Brown enters their lives, her charismatic presence becomes the glue holding their dysfunctional family together - until a catastrophic betrayal tears them apart.

Now, years later, Nessie seeks independence but finds herself trapped in self-destructive patterns. As unsolved family mysteries resurface, she begins to wonder: what really happened between her parents and Mrs Brown?

Perfect for fans of NoViolet Bulawayo's 'We Need New Names'.

London-born Ola Mustapha, pursued studies in economics and Japanese before immersing herself in teaching English in Japan. Now an editor, her captivating short fiction graces the pages of esteemed literary journals like Aesthetica, Storgy, and Bandit Fiction.
Listen to sample
---