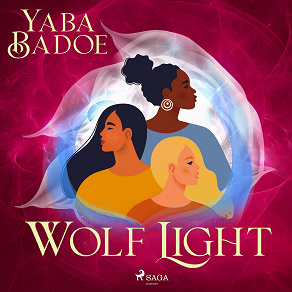 Isbn:
978-87-2828-708-8
Publisher:
Saga Egmont
Category:
Children's books
9-12 years
Accessible since:
August 2023
Narrator:
Janice Acquah
Length: 6 hours 33 minutes
---
Wolf Light
A leopard dances under the moon. A wolf prowls. A red-beaked bird flies free.

Three girls born on the same day in wolf light, the magical dusk, are bound together to protect the world. They can dazzle or destroy. They have wind-song and fire-fury at their fingertips, but their enemies are everywhere.

From the bleak steppes of Mongolia and the tropical forests of Ghana to the stormy moors of Cornwall, the lands they love are plundered and poisoned. The girls must rally to perfect their skills and prove the strength of sister magic.

But how far will Zula, Adoma and Linet go to defend their homes?

Steeped in elemental myth, 'Wolf Light' is a call to us all to hear the ancient power within us, protect our environment, and conserve our heritage.

It is the ideal read for fans of Kiran Millwood Hargrave's 'The Girl of Ink and Stars' and Emmi Itäranta's 'The Memory of Water'.

What people are saying about 'Wolf Light':

´Elemental myth and magic are the beating heart of 'Wolf Light'... Fans of magical realism and powerful women will find much to admire.´ - Observer

´She weaves ancient storytelling magic into words of exceptional beauty... Everyone should read Badoe´ - Sophie Anderson, author of 'The House with Chicken Legs'.

Yaba Badoe is an award-winning documentary filmmaker and writer. Yaba was born in Ghana but now lives in England with her husband. She has been nominated for the Distinguished Woman of African Cinema award.

Yaba's YA debut novel ´A Jigsaw of Fire and Stars´ was shortlisted for the 2018 Branford Boase Award and nominated for the 2018 Carnegie Medal.
Listen to sample
---