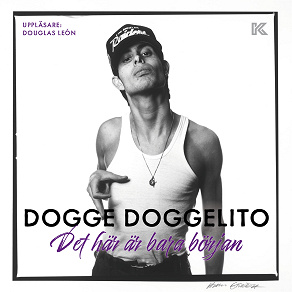 Isbn:
978-91-8954-780-3
Publisher:
Kunskapshuset Förlag
Category:
Memoirs & Biography
Accessible since:
July 2023
Narrator:
Douglas León
Length: 3 hours 21 minutes
---
Dogge Doggelito – Det här är bara början
"JAG ÄR FOLKETS MAN"
Länge har han fått stå symbol för det tuffa livet i förorten.  
Men mycket har hänt sedan Dogge Doggelito hyllades som rappare i bandet The Latin Kings på 1990-talet. Såväl framgångar som motgångar, fattigdom, missbruk, sorger och glädjeämnen har format honom till en annan människa – men också till en mångsidig artist som idag struntar i prestigen för att hellre underhålla den breda massan och samarbeta med Sveriges största artister. Samtidigt är rötterna till hans musikaliska släkt från södra Sverige djupare än någonsin, liksom spåren från Caribien. Hans liv är ett rastlöst sökande efter ursprunget till allt som samlats i en och samma person vid namn Dogge Doggelito.
Douglas León – som han egentligen heter – hittar ständigt nya vägar framåt som artist. Nu ser han tillbaka på sitt liv och vill fortfarande ha mer. Vad är 40 år i rampljuset? Jo, bara början.
Dogge Doggelito – Det här är bara början är en bok fylld av upplevelser i både text och privata bilder.
Douglas León, född 1975, är mest känd som Dogge Doggelito, rapparen från Botkyrka som fick sitt genombrott med hiphop-gruppen The Latin Kings på 1990-talet. Senare blev Dogge rappare på egen hand, men är också känd för ett mer folkligt uttryck, bland annat genom reklamfilmer och prisbelönade visor.
Listen to sample
---